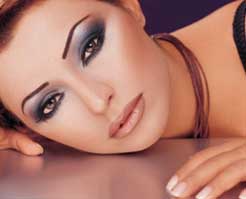 By: Sandra Chung
The smokey eye is one of the most popular and sought-after looks in makeup, often being sported by celebrities on the red carpet as well as models on runways. By making your eyes 'pop', this sexy makeup style is popular due to its simplicity and versatility. Whether you're 19 or 39, there are many different variations of the look that you can wear with endless possibilities.
This look can be done with almost any color, but if you are not familiar with makeup it's a good idea to stick to a neutral shade at first. A bronzey brown or plum-ish purple are safer choices, but if you are naturally adventurous with your makeup, opting for vibrant shades or different combinations of colors such as turquoise or bright purple can be a lot of fun.
For today's tutorial, you will learn how to do a standard smokey eye in 10 steps.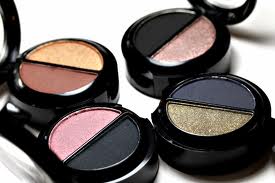 Items Needed
- Eye primer
- Cream color base
- Shadows:
1. Neutral base/highlight,
2. Mid color and
3. Dark color ie: beige, bronzey brown and dark brown
- Coveted Cosmetics Vixen false eyelashes http://www.covetedcosmetics.com/false-eyelashes-vixen.html
- Eyelash glue
- Mascara
- Eyelash curler
- Liquid or pencil eyeliner in black
- Under eye concealer
- Brushes:
1. Small flat brush
2. Small round blending brush
3. Larger round blending brush
4. Bigger highlight brush
5. Concealer brush
Once you have gathered your items needed you can get started: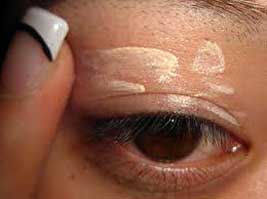 1. Before you apply any makeup on your eyes, apply a eye primer on your lids as it will help prep and moisturize your eyelids for better eye shadow application.
2. Apply a neutral cream color with your small flat brush on your eyelids or some kind of cream base; this will help powder products stay on and blend better, as well as prevent your eye shadow from creasing. Blend evenly in a sweeping motion all across your eyelids from the inner corner to the lash line and up to the highlight.
3. Take same brush and apply your neutral/highlight color(beige) in the same motion as you did with the cream base, going up to the highlight.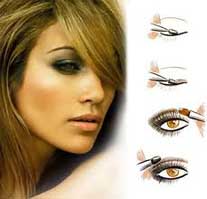 4. Take the same brush and apply your mid color(bronze brown) over the area that is just below your eyebrow bone, covering most of your eyelid from the outer corner to the inner corner, sweeping your brush back and forth. Keep in mid not to dab too much of the product with your brush, if you did you can smear some of the product on to the back of your hand.
5. Take your small round blending brush and and blend the mid color even more in short little strokes moving your brush back and forth. Once you have blended the mid color evenly so that it fades into your highlight area(just below your eyebrow), take the same brush and dab a tiny bit of your darkest color to the upper outer corner of your eye. You can increase the intensity of the look by dabbing more of the darkest color there.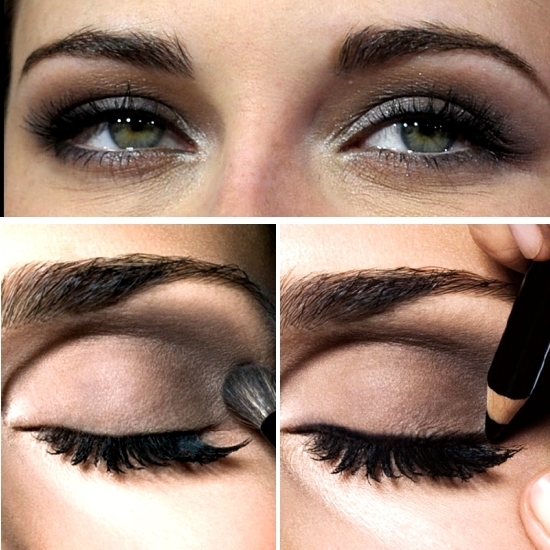 7. Take the same brush and blend the darkest point in an outward 'V' shape, like '<' and '>'. Move your small round blending brush as if you were tracing the '<' repeatedly. Use the larger blending brush and repeat the step until the color is blended evenly into the highlight.
8. Curl your lashes with an eyelash curler, apply mascara, then apply false eyelashes with eyelash glue.
9. You will notice how your smokey eye is intensified before and after false eyelashes. After your lashes have dried and set, apply either black liquid or pencil eyeliner across your upper lash line covering the band of the fake lashes. You can line your bottom lash line as well, depending on how intense you want your smokey eye to be. Take your small round blending brush and dab some of the mid color and line your bottom lash line with it, the heaviest point at the outermost corner of your eye. Apply mascara to your bottom lashes to your liking.
10. Take your large highlight brush and dab some of your neutral/ highlight color and sweep it across your highlight area below your eyebrows. Your eyeshadow should be an even cascade of colors with the darkest color at the outermost corner of your eyelid, the mid color on your eyelid and the highlight right underneath your eyebrow. Clean any eye shadow fall out with eye makeup remover and apply under eye concealer.
And there you have it, the iconic smokey eye in 10 easy steps. To complete your look, finish off with some nude lip gloss for a contemporary look ,or opt for a luscious red lip for a show-stopping effect.