By Sandra Chung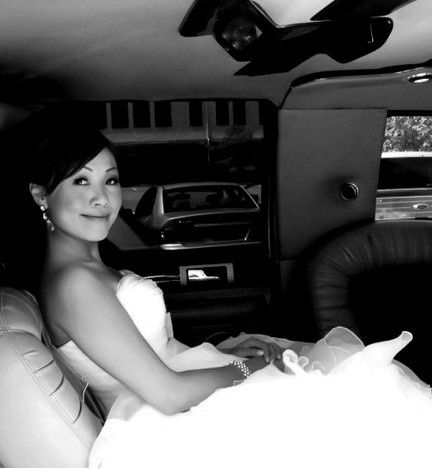 MAKEUP BY SANDRA CHUNG
From the immaculate white gown to the perfect hair and flawless skin, we all know a woman always looks the most beautiful on her wedding day. Being in love will definitely help to give your skin that radiant glow but that's not the only thing you can do to get that much sought-after look. In today's tutorial you will learn how to achieve an effortlessly beautiful bridal makeup look in just a few steps.
There are many variations to bridal makeup looks depending on the personality of the bride as well as the theme. Some brides prefer to have a stronger, bolder look while others like to look as natural as possible. It's a good idea to try different wedding makeup looks prior to your wedding. For this tutorial's sake you will be learning the iconic sun-kissed makeup bridal look.
Bridal Makeup Preparation
Bridal makeup preparation actually starts several days before as you should go for a facial a few days in advance to ensure that your skin is well exfoliated and properly primed for your big day. Drink plenty of fluids, get a good night's rest and make sure you're adequately moisturized before you go to sleep. Proceed to the following instructions the next day:
Items needed for this Wedding Makeup Tutorial
Face:
-         face primer
-         foundation
-         concealer
-         a peachy shade blush
-         powder bronzer
-         cheek highlighter
-         translucent powder
-         eye brow pencil or powder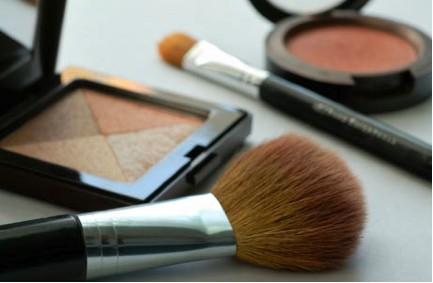 PHOTO: dexknows.com
Eyes:
-         eye primer
-         cream color base for eyes
-         Shadows: a beige/ vanilla color with shimmer as base and highlight; a rose or sunset color as your mid color; and a bronzey brown and dark brown for your crease
-         false eyelashes and eyelash glue
-         mascara(waterproof)
-         black liquid or gel eyeliner
Lips:
-         lip primer or Vaseline
-         lip liner in rose shade
-         lipstick in a neutral/ pinkish tone
-         lip gloss in similar shade with a tint of gold
PHOTO: bestontop.com
Makeup Instructions
1. Apply primer all over your face with a foundation brush, blend evenly
2. Apply liquid foundation all over your face with a foundation brush, leaving the under eye area out and blending evenly
3. Pencil in your eyebrows with a shade that matches your natural eyebrow color
4. Apply eye primer all over your eyelids with a concealer brush, blend
5. Apply the cream color base over your eyelids and blending in the same manner
6. Apply your beige/ vanilla shade highlight/base color with a fluffy eye shadow brush, blend evenly
7. Dab a bit of the mid color(rose/sunset) and apply it over the area just below your eyebrow bone, covering most of your eyelid from the outer corner to the inner corner, sweeping your brush back and forth
PHOTO: littlepinkbook.co.za
8. Dab a bit of the crease color(bronzey brown) on your small round blending brush and apply if to the upper outer corner of your eye, blending the darkest point in a outward 'V' shape, like '<'. Move your small round blending brush as if you were tracing the '<' shape and use the larger blending brush and repeat the step until the color is blended evenly into the highlight.
9. Take your large highlighting brush and apply the highlight/base color just below your eyebrow, you can sweep a touch of gold eye shadow just across your eyelid to enhance the sun-kissed effect
10. Curl your lashes with an eyelash curler, apply mascara then apply false eyelashes with eyelash glue.  If you are wondering how to apply false eyelashes on yourself there are plenty of resources you can find online. Line your lash line with liquid eyeliner just above where the false eyelashes are placed. Apply mascara to your bottom lashes to your liking.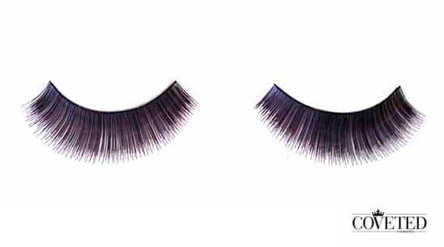 11. Apply concealer to your under eye area and conceal any blemishes.
12. Apply your blush(peachy/rose color) with a blush brush and blend it evenly on the apples of your cheeks. Apply a highlighter(the shimmery beige/vanilla color eye shadow would do) to the highest point of your cheekbones, giving you a cheeks a healthy glow.
13. Apply bronzer to the high points of your face with a large power brush and contour your cheekbones and jaw line.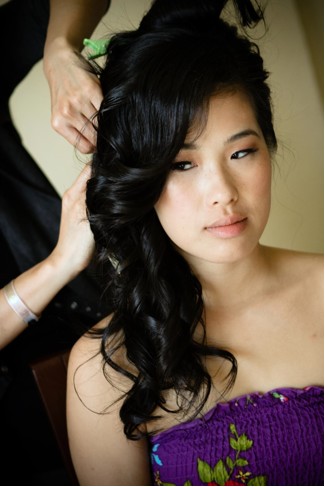 PHOTO NORA BOHANON
MAKEUP BY SANDRA CHUNG
14. Line your lips with a rose-colored lip liner, filling your lips in entirely. Go over your lips first with a neutral-pink colored lipstick then with a rose-gold colored lip gloss.
15. Dust translucent powder over your entire face with a large powder brush.
And with just 15 easy steps you're now ready to strut down the aisle with a beautiful, sun-kissed look! Feel free to share with us your favorite bridal makeup looks. Until next time!